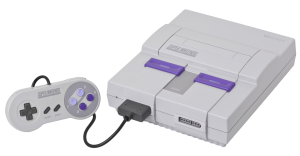 Download Snes9k 0.09z2, the SNES emulator used for online play.
Unzip the file and install the program.
Put your ROMs (game files) in "Snes9K/roms/"
Launch Snes9K.
Click on "

Input

" and on "

Joypad configuration…

" to configure your controller or your keyboard.
Click on the rectangle box beside the first input (UP) and assign all the inputs. When done, click on "

OK

".
Click on "

File

" and "

Load Game…

" to load a ROM and test your controls.
When ready, click "

File

" and "

Play Kaillera Game

".
Click on "

Master Server List

" and wait for all servers to ping. Select any server with a low ping and click on "

Connect

". It is recommended that you download the latest server list and the latest kailleraclient.dll in case kaillera service goes offline.
Join the SNES netplay action!